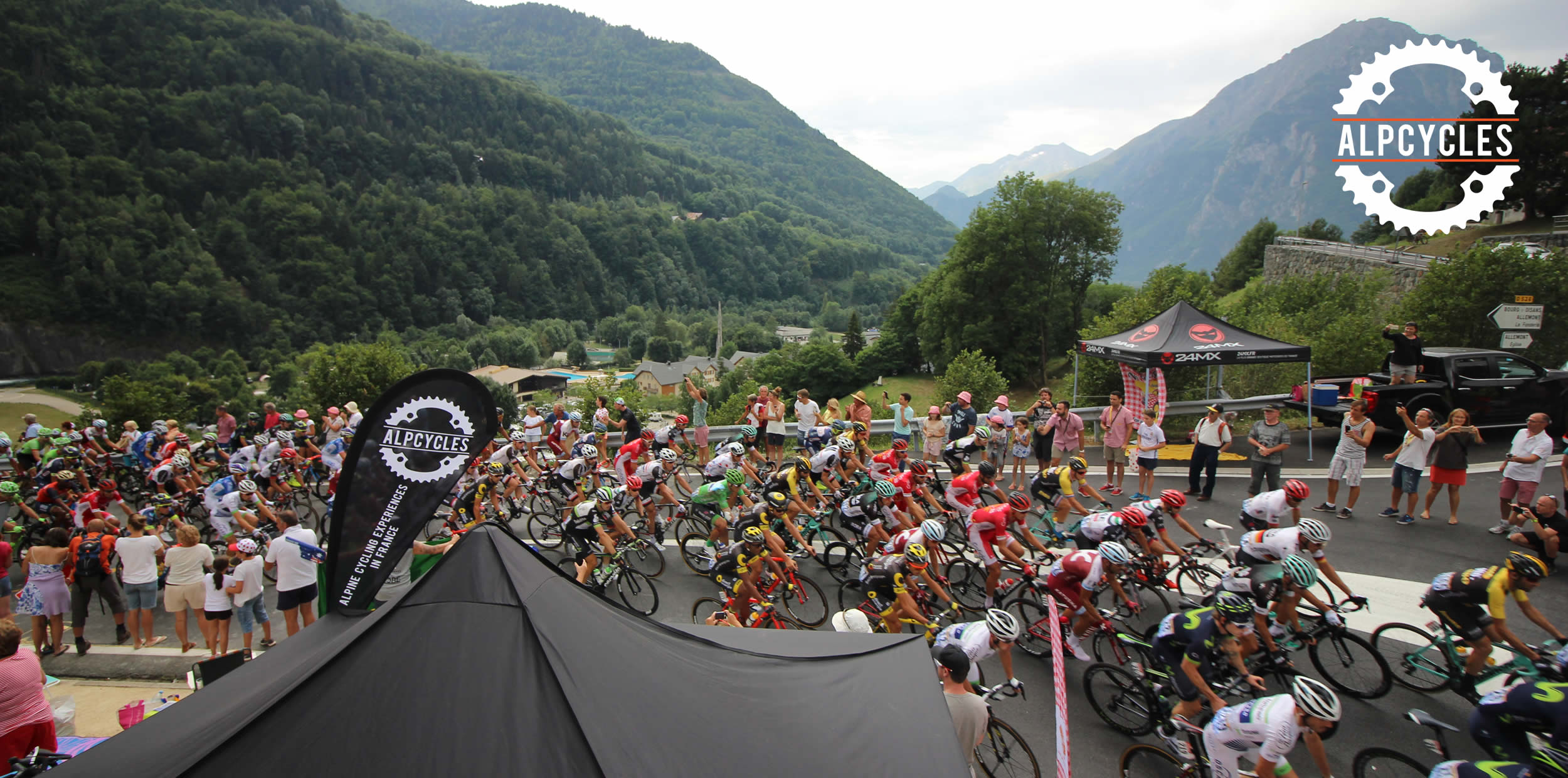 Road Cycling Training Camps & Weeks 2024
Intro
The Tour de France 2024
Alpcycles will confirm our plans for a Tour de France 2024 package aonce the official announcement for the Tour de France route 2024 is made
Please sign up to our newsletter (right) for priority information on any of our 2024 packages
What's included in our Tour de France package:
Below is an example of our Tour de France package for information only
Airport transfers (named)

from/to the start/finish towns at set times
Superb family run and hand-picked hotels
A mix of B&B and Half Board - Cyclists breakfast daily & evening meals on select days
Awesome

Big Ride days

- fully guided & van supported
TDF Stage days - stages to be confirmed

Van

Support & Feedstations with "real food & homemade"

refreshments
All resort logistics organised by Alpcycles
Alpcycles team of guides & hospitality team throughout to plan, troubleshoot and give you the best experience possible...plus a whole host of things we have yet to think of!
What's not included in the package is below:
Flights or transport
Insurance for you and your bike
Lunches & drinks outside of anything outlined above
Bike hire if required
Itinerary 2023
This is an example itinerary only from a previous TDF package
Sunday: Arrival day:
The start of your stay with us and an exciting package based in the heart of some exceptional riding. If you would like to arrive into the hotel earlier this week please let us know and we can help arange this.
You will be collected from the named airport - The pick-up times are yet to be confirmed but we advise booking flight that arrive in the morning if possible.
Once at your accommodation, meet the team, set up bikes and get settled in. There is no guiding today, but you may want to go on a quick spin to check your bike (and your legs) are all in working order!
Welcome meeting at 1800pm
Evening Dinner

Monday: Brides les Bains - Beaufort - Bourg St Maurice :
After breakfast we start your trip with a memorable route.....heading down the valley to climb the Cormet de Roseland from the Beaufort side. With gradients of 4% - 8% and looping over the top and back around. This is a big 120km day and will end with an option to ride back to the hotel if you still have the legs.
Tuesday: Brides les Bains - Col de la Madeleine "Serpentine of the Alps" - Brides les Bains :
This morning will see you making your mark on the Col de la Madeleine, a local icon regularly climbed by the Pro Peleton with gradients of 5.5% - 9.5%
Named the "Serpentine of the Alps" as she snakes up the mountain, this 26km climb is a real challenge and on a clear day the views across to Mont Blanc are well worth your efforts. A fantastic second days riding.
Breakfast
Guests eat out tonigh (not included)

Wednesday: Stage 17, Grenoble to Meribel - Col de la Loze :
Today watch the pro peleton will hit this climb at full gas from the Meribel side and it is sure to blow things apart in the race. We will climb this new "cyclists only" road from the Courchevel side. Its still a toughie but tap it out and the views and carnival atmosphere on this mountain top finish will make it all worth while.

Thursday: Stage 18, Meribel to La Roche - Sur - Foron
Today the riders will depart from Meribel - we will watch the stage start and afterwards head off into the Vanoise National Park to take in some lesser known roads........and anyone up for the cahllenge will have a chance to tackle the Col de la Loze from the Meribel side. Certainly someting to tell your mates about.
Friday: Departure Day:
After a memorable time with our team the transfer will be leaving at a time to be confirmed** and heading back to the named airport. So we say "farewell" to all our guests and are sure you will leave with some great memories.
**Please note, Please discuss departure flight time options with Shelley when booking this package. Please do not book flights before checking our pick-up and drop-off times and airport.
Accommodation
The Perfect Hotel.......everytime!

We handpick our favourite family run hotels in the right locations. They are always supported by our team who will ensure you have a great time off the bike too. With cyclists breakfasts, gourmet cooking, a splash of red wine and the support of the Alpcycles team this makes for the best cycling holiday you will ever have............unless you have stayed with us before, in which case you will be used to the best already!